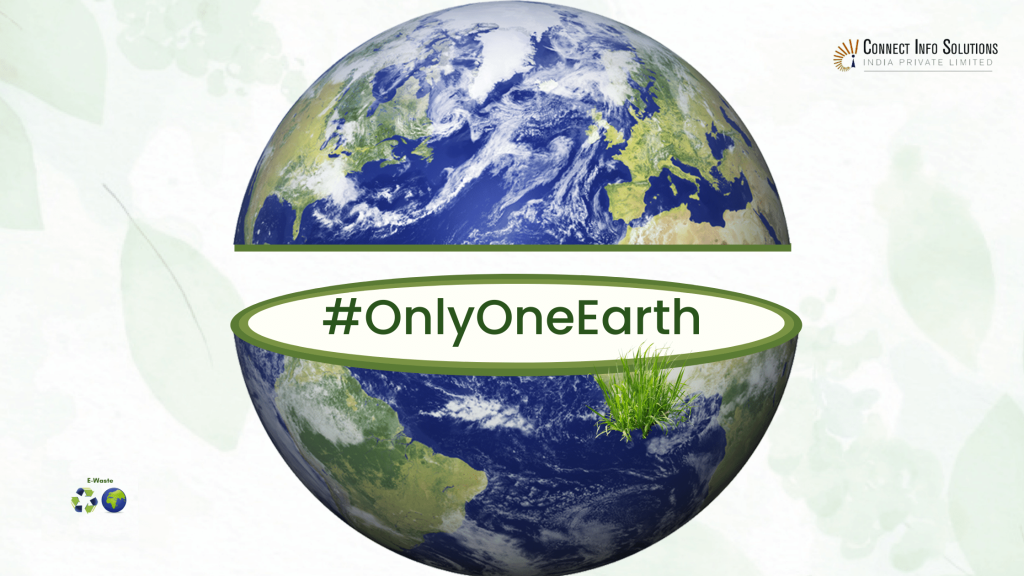 Introduction
This is the first time in decades that our mother Earth is facing a triple planetary emergency. The sudden rising in the climatic heat is making it hard for humans and nature to adapt. The loss of habitat is further raising concern for almost 1 million endangered species.
Not to mention, the continued widespread pollution is corrupting the air, water and land. That is why our world is in dire need of a drastic transformation within the economic and social structure. It is imperative to create an inclusive and fair society that is connected to nature. This is where CISIPL shares their vision with the #OnlyOneEarth campaign for World Environment Day 2022. Let's share hands towards a collective effect to take transformative actions worldwide and project our planet. 
The History of #OnlyOneEarth
The "Only One Earth" slogan was first ever coined at United Nations Conference for the Human Environment. It was held back in 1972 in Stockholm. The sole agenda was to put the idea of sustainable development on a global scale. Exactly fifty years later, Sweden is bringing back the sentiment, on the auspicious occasion of World Environment Day.
World Environment Day is one of the largest global initiatives taken by the United Nations Environment Programme (UNEP). World Environment Day is held annually on the 5th of June since 1973. Celebrated by millions of people worldwide, the sole purpose of the day is to raise awareness of our environment among the general population. In 2022, World Environment Day will be hosted in Sweden.
1. The Raising Concern on Sustainability
It is imperative to understand that now is the best time ever to take actionable steps for nature. With the rising concern of global warming, it is very important to significantly halve global gas emissions.
Based on the projections, the alarming effects of air pollution due to e-wastes are going to increase by 50% within the coming decades. Furthermore, by the end of 2040, plastic wastes are going to further deteriorate the aquatic ecosystem nearly three times. It is through the "Only One Earth" initiative that we can make actionable decisions, and create sustainable living with harmony in nature.
2. Concerns of E-Waste Disposal Industry
E-Wastes are not predominantly wasted but comprise a plethora of useful components. So, once e-wastes are disposed into regular garbage bags, it often ends up in landfills. The devices often contain components that are toxic to the environment.
These chemicals seep into the soil and water, causing harm to humans as well. So it is evident that we adopt a more systematic process while recycling or refurbishing e-wastes. Dedicated authorized centres set up such as CISIPL collects these electronic wastes including old smartphones, computer peripherals, PCBs, lithium batteries, home appliances and more.
3. Learn the Right Way to Dispose E-Wastes
Registered e-waste recycler companies such as CISIPL are one of the most prominent channels to dispose of e-waste. Once collected, we abide by all the norms and government guidelines to segregate, recycle and reuse various components through proper channels.
It is through deploying various reverse logistics, we ensure proper e-waste management most efficiently while maximizing the values extracted from the components. Before disposing of the devices, we make sure to completely wipe the data off the device for peace of mind. 
Effectively handling e-wastes is crucial from both environmental and security points of view. Even after the end of a device's lifespan, it can significantly harm the environment, causing dissatisfaction. That is why we always strive to replicate a greener process altogether.
Recycle Your E-Waste with CISIPL
For World Environment Day 2022, CISIPL is taking the initiative of raising awareness among the general population and corporate about e-waste management. For everyone living in India, and having a drawer full of old smartphones and electronic gadgets, now are the best time ever to contribute to a proper e-waste solution. Let's join hands and work together on our common goal of sustainable and eco-friendly living.
Based on the World Environment Day 2022 resolution, we must look into our available options for sustainability while facilitating everyone to take effective and eco-friendly decisions daily. 
While the majority of the decision making is taken by large entities including national governments, large organizations, and enterprises, it is evident to contribute individually as well. We as a civil society are the central advocates and primary supporters of the cause. So it is evident to raise our voice and emphasize the pressing matters at hand.
It is through our continued support for World Environment Day 2022 and the #OnlyOneEarth campaign that we can help retain our beautiful planet for many generations to come. Connect Info Solutions Private Limited has ensured to live by their vision to achieve clean India. E-Waste is one of the most complexed industries in India and the right leadership can take Ewaste Disposal solutions to the next level.