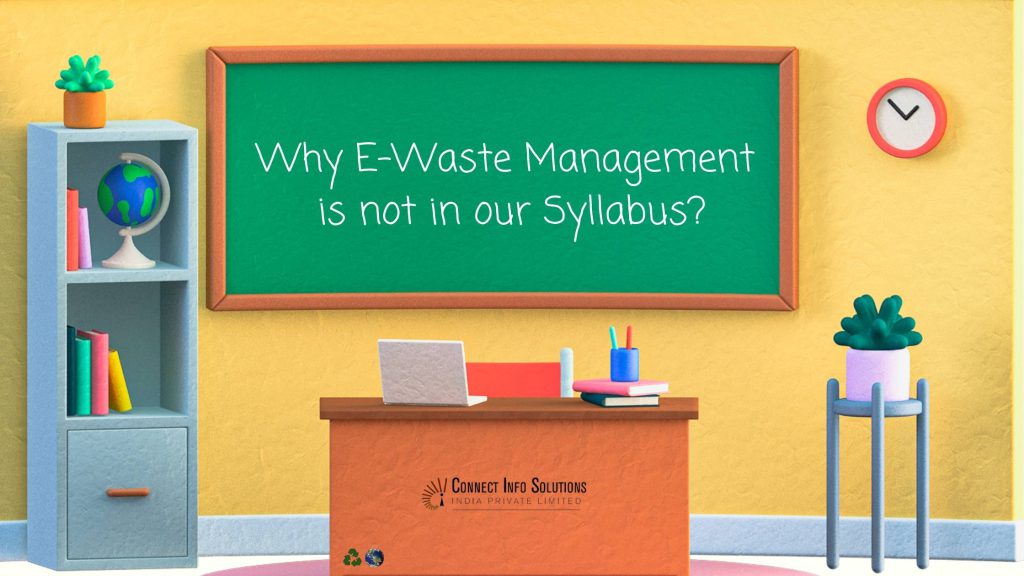 Introduction
Nations around the world have become more concerned about waste disposal, typically, e-waste management. There is an increased consumption trend due to the growing population. That being said, proper e-waste disposal must be our top priority out of all types of waste. Looking at our present situation, conventional ways of e-waste management can make things worse. Over the years, e-waste management techniques have evolved, and it's important we realize why e-waste management should be included in our education system.
E-waste, being one of the fastest-growing waste streams on the planet, it's high time we encourage e-waste management programs in the country. Despite the efforts of non-profit organizations and the government to reduce e-waste, however, the lack of information is one of the major causes of the increased e-waste growth. Growing concerns related to e-waste growth and its management have compelled educational bodies to create awareness of e-waste recycling.
The Significance of E-Waste Management
It's critical to keep e-waste out of landfills and recycle as much as possible. The increasing amount of e-waste has adversely affected our environment. Electronic devices consist of toxic substances and heavy metals, which are infused with the soil and can degrade the quality of soil, also threatening lives on Earth.
E-waste disposal is a major environmental concern in all parts of the world. In 2018, an estimated 50 million tonnes of e-waste were produced. Over the years, improper e-waste disposal has negatively impacted the planet and contributed to major global issues. Though we have come a long way and introduced e-waste technologies, new issues are emerging and affecting the planet at large.
Why are nations desperate to invest highly in E-Waste Management Industry?
1. Decrease Raw Material Demand
Recovering precious materials from e-waste can help reduce raw materials demands. It helps to conserve non-renewable resources and cut down energy and production costs.
2. Reduce Greenhouse Gases Emissions
About 90% of e-waste ends up in landfills or is sent to incineration. The burning down of the e-waste releases harmful greenhouse gases into the atmosphere. So, we must dispose of our e-waste properly.
3. Preserves the Environment
With the consumption of electronic devices skyrocketing, the amount of e-waste produced is increasing every year. Inappropriate handling of e-waste can have an adverse effect on the environment. So, we need to adhere to the recent e-waste policies imposed by the government and preserve the environment.
4. Protects Animals and Marine Life
Creating a wildlife-friendly environment can start with the proper handling of e-waste and recycling. Becoming a good citizen and abiding by e-waste management policies can also help protect animals and marine life.
5. Adding Safety
Our electronic devices have sensitive information which we don't want to share with anyone. So, recycling would benefit us rather than dumping e-waste inappropriately.
How to Raise Awareness among People?
While having the latest electronic devices can be fun, our planet is paying a high price for our reliance on them. By raising awareness and understanding the depth of the issue, we should aim to minimize our e-waste production. E-waste poses a great threat to human and environmental health. We, the consumer, play a key role in the better management of e-waste. Here is what we can do to raise awareness about e-waste.
1. Recycling Programs
We can show our support for recycling programs by purchasing recycled products and choosing services of sustainable brands. Many brands meet the demands of their eco-conscious consumer base.
2. Let's Talk More About E-Waste
The unorganized processing of e-waste is a major concern, particularly in developing nations like India. E-waste continues to destroy the environment at an alarming rate. So, it's time that we introduce simple yet effective strategies for e-waste management in educational institutions.
3. Start Your Own Campaign
If unchecked, the problem of e-waste can cause unprecedented damage to the environment. It is our foremost responsibility to check our e-waste production and manage them accordingly. Start your campaign. Educate the masses on the importance of e-waste disposal.
4. Support E-Waste Management Efforts
We can encourage the government to adopt environmental policies. By showing support to management by providing e-waste reduction ideas, we can contribute to the cause. The more consumers know about e-waste management, the better.
How Students Can Contribute to E-Waste Management?
1. Giving Electronic Waste to a Certified E-Waste Recycler
Don't dump your e-waste everywhere. Instead, get in touch with a certified e-waste recycler if you longer require your electronic gadget. As responsible individuals, we need to make certain changes in our daily life to protect our environment. Implement things you've learned in your school to the right use. We can also talk to people in your community about e-waste management.
2. Donating Your Outdated Technology
You can also donate your outdated devices. That way you would reduce e-waste and also help the needy. Even though you don't require your old gadgets anymore, it's almost guaranteed that someone else will. Some unprivileged students require gadgets. So, why not donate?
3. Sell Off Your Outdated Technology
There are many sites where you can sell off your outdated technology. Yes, there is a market for pre-owned gadgets as well. That way you can also earn some money. Buying second-hand gadgets benefit the environment in a big way.
4. Support E-Waste Management Program 
There are many big companies Samsung, and HP who have started e-waste recycling programs in India to spread awareness for responsible disposal of e-waste. So, whenever you feel like disposing of your old devices you can get in touch with their customer service. They will collect your e-waste from the doorsteps without charging any fee.
Wrapping Up
It's a good idea to work towards solving the disposal issue and implementing e-waste management policies in our education system. Creating awareness and organizing campaigns can effectively encourage students to learn about the current global issues and act toward protecting natural resources.
There are companies like Connect Info Solutions India Pvt. Ltd, which is taking initiatives to promote e-waste management in the country. So, let us work together and connect with these companies in making our planet greener.