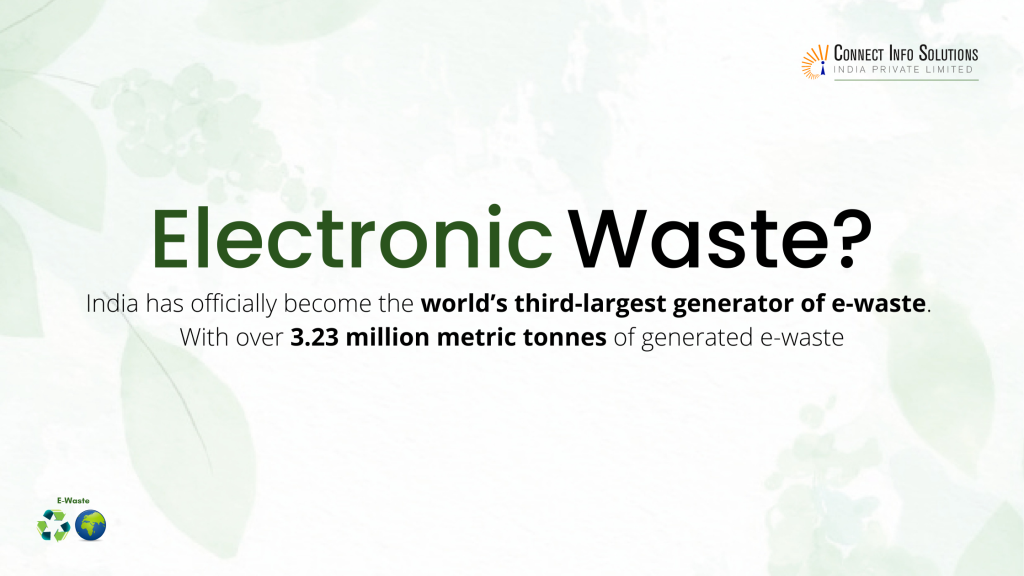 Introduction
With the advent of technology and our urge to get the latest and most advanced electronic gadgets, we forgot down the line the amount of e-waste generated. Very little has changed over the years, even after the government put regulations on e-waste management.
India has officially become the world's third-largest generator of e-waste. With over 3.23 million metric tons of generated e-waste, India is right behind China and the United States. Now is the most crucial time than ever to raise awareness and promote sustainable e-waste management throughout the country.
What exactly is an E-Waste?
In Layman's terms, e-wastes are electronic gadgets that are often not working, unwanted and almost at the end of their functional life cycle. Everyday electronic equipment including smartphones, laptops, computers, fax machines, and more, each contributes to e-waste in one form or another.
The biggest concern with e-waste is its proper disposal, which dates back to the 1970s. But, one thing that was drastically changed over time is the number of electronic gadgets being discarded every year. A particular term used for this issue was implemented with a consensus around the name, 'e-waste.'
Note: E-waste comprises electronic equipment that was often discarded. These are either thrown straight into the garbage or donated to a charity. E-waste poses some serious threats to the environment, exposing toxic chemicals to nature.
Top 5 Countries Generating E-Wates Worldwide
China: 10.12 million metric tons
United States: 6.91 million metric tons
India: 3.23 million metric tons
Japan: 2.56 million metric tons
Brazil: 2.14 million metric tons
What is the need for an E-Waste Management Company?
According to the Global E-Waste Monitor Report 2020, India is producing 2.5 times the e-waste, resulting in 3.32 million metric tonnes within six years. In fact, between FY 2018 and 2020, India rose 43% in e-waste generation.
The pandemic further escalated the process, with the substantial use of the electronic device. According to the study conducted by ASSOCHAM and KPMG, computer equipment alone makes up for 70% of all the e-waste generated.
This is followed by 12% for phones, 8% for electronic items, and 7% for medical equipment. Even the rural part of the country are also contributing to the e-waste. A large portion of the e-wastes comes from metals, glass and plastics.
With proper salvage, one can acquire precious metals including iron, zinc, copper, silver, gold and even palladium. Furthermore, rare metals such as palladium, ruthenium, osmium and platinum come directly from the PCBs.
That is why it is the best time ever to mandate new laws and regulations to streamline e-waste management. Setting up formal e-waste handlers to oversee illegal imports and creating awareness in general.
Top 5 Indian Cities Generating E-Wastes
In India, each state contributes its fair share of e-wastes. The top three Indian state includes Maharashtra, Andhra Pradesh, and Tamil Nadu. Not to mention, some of the other states producing e-wastes include West Bengal, Uttar Pradesh, Karnataka, Delhi, Gujarat, Punjab and Madhya Pradesh.
E-waste predominantly originates from the urban populations of the country. With 65 cities contributing to almost 60% of all the e-waste generated in India. The top five e-waste producing cities in India are:
Mumbai
Delhi
Bangalore
Chennai
Kolkata
Seelampur in Delhi is considered the largest e-waste dismantling centre in the country. Workers spend almost 8 to 10 hours a day, scraping precious metals such as copper, gold, palladium, and more out of various functioning parts of the device.
Oftentimes, the recyclers use unethical processes such as acid-leeching and incineration. Predominantly ruled by the unorganized sector, this is where we need to create awareness, along with implementing proper recycling infrastructure to promote sustainable e-waste management.
Paving Towards a Sustainable Future
Managing e-wastes can get tedious at times, given the complicated process while complying with the government guidelines. This is where CISIPL steps in, offering state-of-the-art IT Asset Disposition (ITAD) and recycling solutions.
Here's how CISIPL is paving the way towards a sustainable future, offering curated services to both clients and residents alike. We encourage recycling and proper disposal of e-waste on a regular basis while keeping the environment clean. Some of the most prominent services for e-waste management include:
1. E-Waste Recycling
It is imperative to understand that each business faces unique challenges while complying with the CSR guidelines. Being a firm believer in deliverable results, we work side by side with our clients. Be it a local business, partner site, or corporate office, we have got you covered.
Managing your e-waste recycling needs, its test, weigh, capture photograph and generic data and refurbish products based on your specific requirements. Each product is handled with care, in the most efficient and environmentally friendly manner.
2. IT Asset Disposition
Our ITAD services include seamless upgrade and decommission of IT assets for your data centre and office. We offer logistic support that makes the entire transition journey secure, safe and above all environment friendly.
CISIPL specializes in both IT and enterprise equipment such as servers, networking and storage. Not to mention, our use of certified data erasure technology gives you peace of mind, while disposing of IT assets. We coordinate all our activities on an end-to-end basis, keeping client confidentiality.
3. Data Sanitization
Data sanitization plays a crucial role, in keeping confidential information within the business, while taking care of the environment. Our custom data sanitization solution makes sure, we cater to all your business needs.
Using degaussing machines, every HDD is wiped out without a single trace of an electron. This makes sure that the data can't be restored in any possible way. Furthermore, our service extends to off-site HDD shredding along with the destruction of excess stock or unused inventory.
For any further queries on E-waste Management, you can reach us via email or drop in your feedback and our team will get back to you within 48 hours.