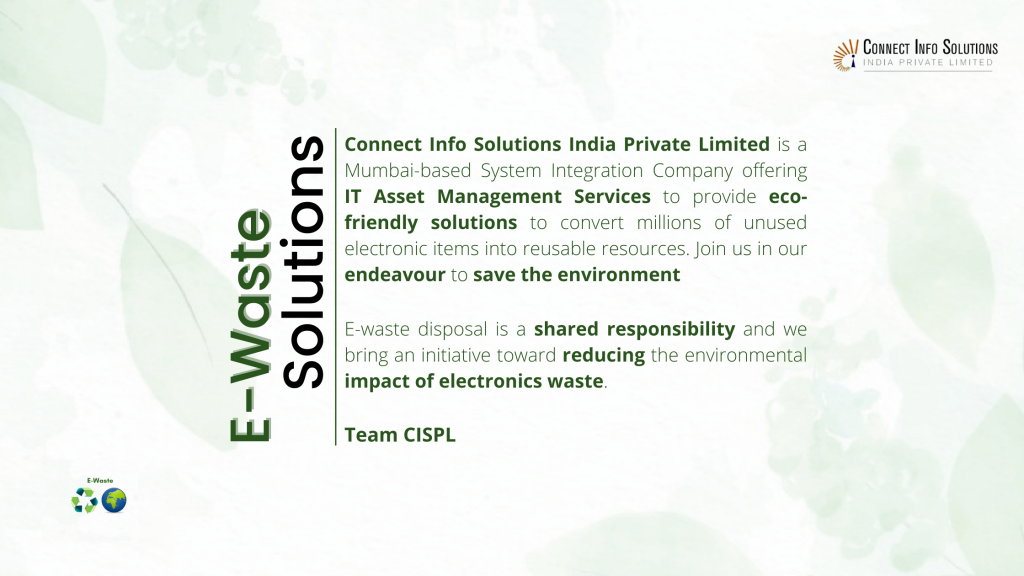 Introduction
In the past few years, there has been a huge upsurge of interest regarding e-waste solutions, predominantly because of environmental concerns. In fact, the majority of the countries throughout the world, including India are encouraging to recycle electronic gadgets instead of throwing them into landfills.
Furthermore, the government also takes several efforts to educate the public on e-waste solutions and the benefits of recycling electronics. This raises the bigger concern, why such a strong intention on recycling electronics? The answer is simply because evidence suggests the drastic effects of improper e-waste solutions and their impact on the environment. 
Understanding the Philosophy Behind Finding E-Waste Solution
CISIPL recognizes the significance of preserving natural resources, while ensuring it allows all life on Earth to sustain, including the future generation. With proper e-waste solutions, we can ensure that all of humanity can attain a higher and enriched life.
In order to make this dream turn reality, CISIPL strives to offer a state-of-the-art e-waste solution ensuring zero environmental footprints throughout the lifecycle of any product whatsoever.  It is only possible by making subtle changes to our thoughts that can bring forth a greater impact on our lives. Not to mention, each and every action has a substantial impact on our ecosystem. 
It is through recycling that we can reduce the further extraction of natural resources while mitigating the pollution caused by electronic waste. Overall, we stand with contributing towards conserving nature. 
CISIPL Services: A Step Towards Sustainable and Eco-Friendly E-Waste Solutions
What seems like a waste today, can become the sustainable resource of tomorrow. That is the only mantra of CISIPL to bring forth new life into old electronics. It is through our constant endeavour to rethink, redesign, restore and reuse that we offer state-of-the-art e-waste solutions. Here are some of the most prominent e-waste management services offered by CISIPL:
1. IT Asset Disposition
Offering a wide range of ITAD services, we make sure that every part of your journey is safe, secure, eco-friendly, and above all cost-effective. Be it upgrading IT equipment, decommissioning of office, or moving your data centre, CISIPL has got you covered.
CISIPL can seamlessly handle enterprise-grade IT equipment such as storage, servers, and networking. With certified data erasure technology, users can get peace of mind. For utmost efficiency, several working pieces of equipment are reused instead of sending them to landfills.
With our tailor-made IT rental and leasing services, we make sure to cater to your short-term needs, while offering the perfect e-waste solutions for organizations and enterprises.
2. Data Sanitization
Data Sanitization plays a very crucial role in offering a seamless workflow within the company. With our individual solutions, we make sure to meet all our clients' needs. For Disk Sanitization, we use industry-standard software including White Canyon, Diskwipe, and Blancco for complete peace of mind.
The Degaussing solution for HDDs makes sure that all the data are erased using the Degaussing machine by wiping off the electrons from the drive. This not only removes the data but wipes the drive completely clean as if no data were stored in the first place.
While opting for our off-site Shredding process, we make sure that your HDDs are physically destroyed using industry-grade shredders. For excess stocks and unused inventory, we offer product destruction services in the most environmentally friendly manner.
3. E-Waste Recycling
We have a clear understanding of how different businesses have their unique set of challenges while complying with the Government guidelines. Our clients exceed beyond local businesses, partnered sites, and corporate offices.
CISIPL ensures to offers the perfect solution by weighing, taking photographs, and capturing the specific data to refurbish based on the requirements. We make sure to handle the entire recycling process in the most efficient, and environmentally friendly manner.
Furthermore, our recycling process ends with offering the clients withal the relevant certificates, ensuring the products were disposed of in a certified manner, and complying with all the norms and guidelines.
The Bottom Line
It is imperative to understand that saving the environment is actually a shared responsibility. This is where, CISIPL strives to understand, cooperate and work alongside consumers. It is through the e-waste solutions that we are able to mitigate the environmental impacts to a certain extent.
We here at CISIPL make sure to comply with all the environmental laws imposed by the Government of India for proper e-waste management. To further encourage and spread the word about e-waste recycling, we advise all our consumers to deposit their used electronic gadgets at our collection centers.
It is only through our collective effort, we can ensure a safer and more efficient way for e-waste disposal throughout the nation. Let's work together towards our common goal and make India a green electronic nation.