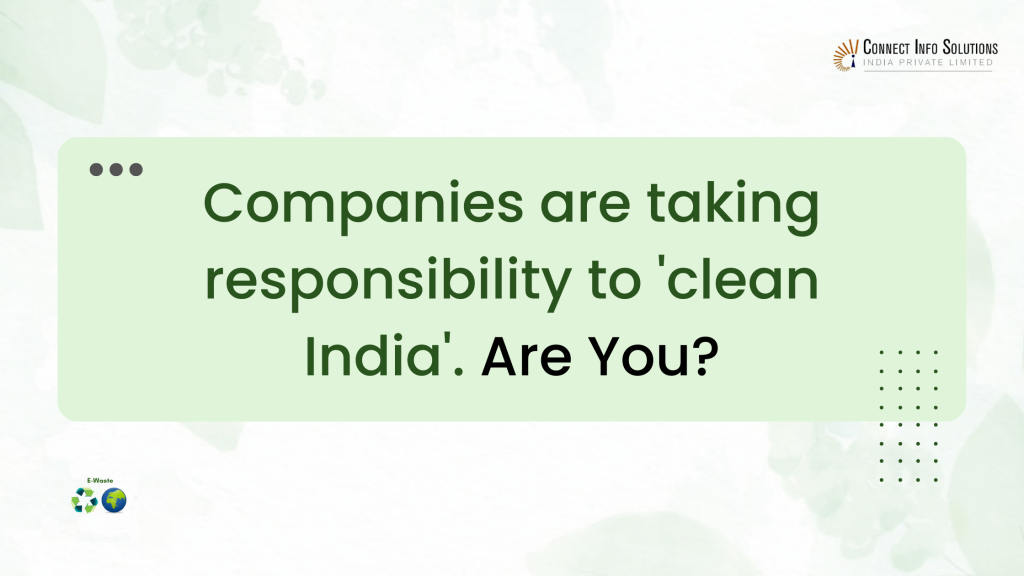 Introduction
India was recognized as number three when it comes to e-waste production in 2020 after China and the U.S. India reportedly produced 3.2 million tonnes of e-waste which has raised cause of concern for the Indian government and private organizations alike. While we continuously advance technologically, all this technological development is coming at a cost. We are continuously pressuring our planet with waste which is directly impacting our lives. It's also leading to long-term consequences that we don't understand right now.
Realizing all these effects, many big companies like LG, Samsung, Xiaomi, etc., have come forward with various initiatives to tackle this challenge at large.
What are the five best E-waste programs by top MNCs?
From spreading awareness to facilitating e-waste disposal, there are various programs have been introduced. Some brands offer e-waste pick-up services, drop-off centres, promotions, exchanges, etc to support this cause. There are some digital product brands that are recycling old products and reusable waste to make parts for new products. Yes, we've crossed the first stage of acceptance and are finally moving in the right direction.
So, let's look at the top five e-waste management systems currently operational in the country run by big brands and multinationals.
LG
LG is one of the leading electronics companies based out of Korea with a significant presence in India. Understanding its responsibility towards society and nature, it has formed a comprehensive program to tackle this challenge. Forming a vast network of over 40 recyclers, LG is facilitating the collection and recycling of e-waste. These recycling agencies are government-approved and have signed a waiver saying that they won't involve themselves in incinerating, dumping, or exporting waste material to developing countries.
This program has already collected and recycled over 100 Kilos MT of e-waste in three years by 2020 and is still going headstrong. It's also running an 'Exchange and take back' program where consumers can exchange their digital products for coupons which have proven a hit.
Xiaomi
The Chinese mobile phone giant Xiaomi has launched various awareness schemes and programs reaching out to the masses. It's trying to spread awareness and educate consumers about the dangers of e-waste. Further, it also partnered with Karo Sambhav to set up over 150 waste collection points in and around its stores and service centres spread across 500 cities throughout the country. This has enabled an easy e-waste collection system where they've been able to collect and recycle over 400 tonnes of e-waste in the past three years.
Also, it's launched a Take-Back & Recycle program. Whenever you return any electronic product from mobile phones, batteries, chargers, and data cables to all other accessories, you get 100 rupees credited to your Xiaomi account. You can eventually use this balance to make further purchases with the brand.
Samsung
Samsung has launched the 'Samsung Care for Clean India' program to contribute to this goal. While it is continuously spreading awareness about the responsibility toward e-waste disposal and recycling, reduction of e-waste, and global standards, it's also implemented a concrete action plan.
Having built partnerships with the government, they've signed waste disposal companies who have waived off any export, dumping, or incineration of e-waste. They've also launched a helpline number which will arrange pickup of your electronic waste including any brand's washing machines, refrigerators, televisions, etc.
You can even WhatsApp their helpline on (1800 5 7267864) to arrange a pickup. While there is no monetary reward or benefit for getting your electronics properly disposed of, this program is seeing mass support as more people are realizing their responsibility.
Croma
Croma has become popular by becoming a one-stop solution for all your digital needs. It offers almost every electronic that one could want. Besides establishing drop points at every store, it also established a helpline number. You can dial (1860 2662 7662) to schedule a home pickup of your e-waste.
Once this e-waste is picked, it'll reach JustDispose's state-of-the-art e-waste management facility. Here, your e-waste will be segregated between reusable and waste. The reusable components will get refurbished or recycled and help in promoting education in rural areas. The unusable components will go to government-approved disposal centres where they'll be properly disposed of in an environment-friendly manner. Additionally, Croma has also pledged to plant a tree in your name for every electronic you submit to them for disposal. This endeavour acts as a cherry on top.
Sony
Along with many other companies like Panasonic, Sony has established numerous e-waste collection points around the country. While these companies are not offering any momentary rewards or exchange offers, they're trying to spread awareness amongst the masses. These brands want to spread awareness amongst everyone and ensure proper waste disposal. From arranging home pick-up to drop centres, it's important that all of us realize our responsibility and help clean our planet.
In a nutshell
We have accumulated years' worth of e-waste on the planet. We won't be able to clean in a matter of days or months. It's going to be a lifelong conscious effort and all these companies are doing their bit through these programs. But that's not enough. We also need to do our share by being responsible, refusing, recycling, and proper disposal of e-waste.
Dispose of your E-waste; responsibly and efficiently without causing e-waste pollution. Connect with us at 91 9820 29 7108 | info@connectinfosol.com