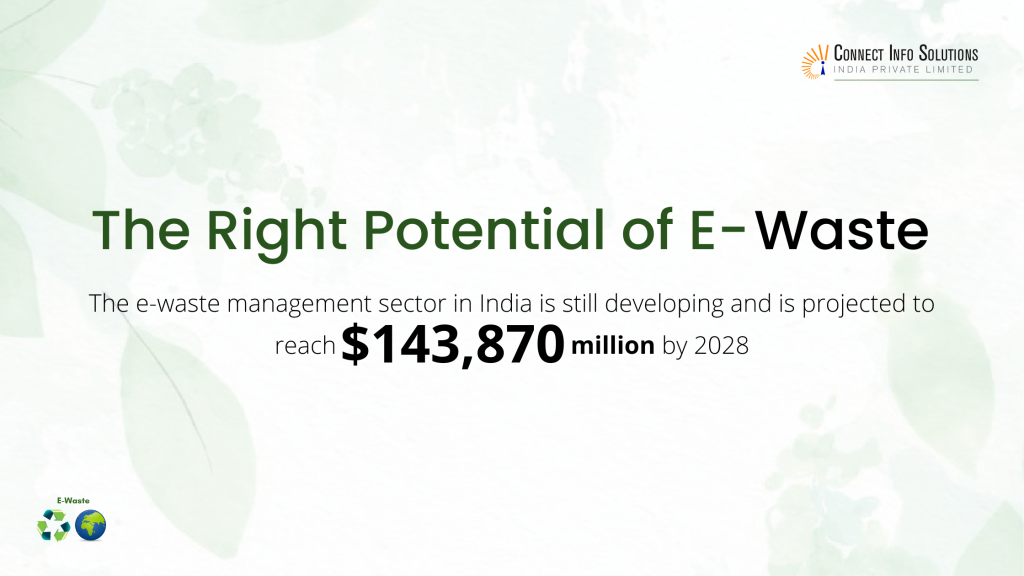 Introduction
The fast-growing technology has resulted in huge demand for electronic devices. With that, the market for electronic gadgets is booming. However, it has a negative impact on the environment. We generate around 40 million tons of electronic waste every year. Studies reveal that e-waste would increase to 74.7 Metric tons by 2030.
E-waste can be disastrous if not managed well. Proper disposal of e-waste is crucial. Despite new laws and regulations, 20% of e-waste ends up in landfills. India has imposed several laws to recover valuable materials from e-waste and improve recycling systems in different parts of the country.
The growth of the Indian E-Waste industry
Fortunately, E-waste is growing at a compound annual growth rate (CAGR) of about 30% in India. India is encouraging all e-waste recyclers for the betterment of the masses. On the brighter side, there are over 178 registered e-waste recyclers which is a great achievement for the country.
There is significant economic potential in the successful recovery of valuable materials in e-waste management. So, job prospects in this industry seem to be brighter. It will also provide constant income-generating opportunities for both government and registered organizations.
The e-waste management sector is still developing and is projected to reach $143,870 million by 2028. Such growth wouldn't have been possible without the participation of the government and e-waste recyclers.
The future potential of E-Waste management in India
While the growth of Indian e-waste management has been phenomenal, it requires further refinement. Here are some of the initiatives that can further strengthen the rapid adaptation of e-waste management:
1. Reward-Based E-Waste Disposal
One of the easiest ways to raise consumer awareness of proper e-waste disposal can be achieved by incentivising them. OEMs and manufacturers can implement a reward system with the intent to be responsible. Consider the collective effort of the society, and it can bring forth huge change exponentially.
2. Expanding Collection Networks
Expanding the collection networks is one of the easiest ways to acquire huge e-wastes real quick. Simply installing e-waste bins strategically can make all the difference. Shopping centres often have e-waste bins, which can be easily adopted in India. Not to mention, e-waste management companies can also capitalize on the extensive network of plastic waste management companies.
3. Expanding the Horizon of Services
Given the size of the Indian market, it is not just restricted to e-waste disposal. Cross-industries opportunities can pave new ways for e-waste management companies to expand their horizons. For instance, this already exists in solar PV panel management, and potentially in the EV market in near future.
How CISIPL is contributing to the E-Waste industry?
It is imperative to understand that managing e-waste is troublesome, especially complying with various government policies. This is where CISIPL considers it a corporate responsibility to contribute toward e-waste management. Whether you are a full-fledged enterprise or an end-user, CISIPL offers the perfect solution. Apart from offering proper e-waste disposal, CISIPL also encourages recycling for a sustainable future. Here is a detailed list of services offered by CISIPL:
1. E-Waste Recycling
Each business has its unique set of challenges that needs to be addressed accordingly. CISIPL offers curated services abiding by all the CSR guidelines. Whether you are a local business or a partner site, CISIPL is well versed in managing e-waste in the most environmentally friendly manner.
2. IT Asset Disposition
For data centres and offices, decommissioning of IT assets plays a very crucial role. The same is applicable to periodic updates. This is where CISIPL steps in, offering logistic support to assist in a seamless transition, you get a comprehensive ITAD service.
CISIPL specializes in a plethora of IT and enterprise equipment including networking, servers, and storage. With certified data erasure technology, companies can rest assured of complete client confidentiality.
3. Data Sanitization
Data sanitization is yet another crucial aspect of e-waste management. It is very important to keep confidential business information in check while taking care of the environment. For HDD storage, degaussing machines are used so that data can't be restored in any manner whatsoever. CISIPL's services further extend with proper disposal of excess inventory.
Wrapping Up
Globally, e-waste is growing at a constant rate. It is critical to understand that e-waste in India is becoming a great concern than anticipated. Many developing countries have given high priority to e-waste management. There are many challenges to overcome. However, companies like Connect Info Solutions India Pvt. Ltd. (CISIPL) have successfully established an effective e-waste management system paving the way for a better e-waste management system.
In our next blog, we will talk about initiatives and laws that the government has implemented to support the e-waste industry. This is due to the hike in digitalization, and our government's take on building awareness since 2011 has played a crucial role in implementing proper e-waste management laws. Based on the E-waste (Management) Rules 2016, only authorized recyclers and dismantlers are permitted to collect e-waste. 
According to the Producer Responsibility Organizations (PRO), it has become the corporate responsibility to acquire at least 20% of all the waste generated from sales. Such laws imposed by the Indian Government make sure that producers hold accountable for the e-waste generated.